Meet Our Team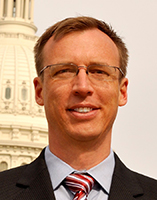 Chuck Podolak has been named the Director of the Water Infrastructure Finance Authority of Arizona where he leads an agency tasked with helping Arizona residents secure clean and reliable water supplies into the future. Prior to joining WIFA Chuck was the Director of Rights and Contracts at SRP, leading a group focused on addressing water conflicts throughout the state. Chuck also served as Natural Resources Policy Advisor to two elected officials - Governor Doug Ducey and Senator Jeff Flake. In those roles at the state and federal levels he was responsible for policy and legislation relating to Arizona's water, land, environmental quality, wildlife, agriculture, and energy issues. Dr. Podolak has a bachelor's degree from the U.S. Air Force Academy and a PhD in fluvial geomorphology (river sciences) from Johns Hopkins University. Originally from Colorado, Chuck first moved to Arizona in 1997 during the early part of his Air Force career flying F-16s and is proud to call Arizona home once again.

Administration and Outreach
Human Resources management, payroll services, strategic planning, board and agency administration. Administration and Outreach handles the day-to-day administrative duties, reception services, scheduling, and records management.
| | | | |
| --- | --- | --- | --- |
| Brenda Guerra | Administrative Assistant | This email address is being protected from spambots. You need JavaScript enabled to view it. | (602) 329-7512 |
| Chelsea McGuire | Assistant Director - External Affairs | This email address is being protected from spambots. You need JavaScript enabled to view it. | (602) 364-1236 |
| Chuck Podolak | Director | This email address is being protected from spambots. You need JavaScript enabled to view it. | (602) 364-1312 |
| Denise Olson | Assistant Director - Finance | This email address is being protected from spambots. You need JavaScript enabled to view it. | (602) 364-1235 |
| Edgar Tovar | Network & System Administrator | This email address is being protected from spambots. You need JavaScript enabled to view it. | (602) 647-3637 |
| Garrett Corral | Chief Information Officer | This email address is being protected from spambots. You need JavaScript enabled to view it. | (602) 647-4546 |
| Joe Citelli | General Counsel | This email address is being protected from spambots. You need JavaScript enabled to view it. | (602) 647-4403 |
| Judah Waxelbaum | Legislative Liaison | This email address is being protected from spambots. You need JavaScript enabled to view it. | (480) 647-2708 |
| Lindsey Jones | Assistant Director - Water Programs | This email address is being protected from spambots. You need JavaScript enabled to view it. | (602) 364-1324 |
| Yolanda Mendoza | Business Operations Administrator | This email address is being protected from spambots. You need JavaScript enabled to view it. | (602) 364-1311 |
Financial Services and Operations
Financial services manage WIFA's financial goals, objectives, and policies. Including the oversight of WIFA's debt and loan programs. Financial Services also directs WIFA's Financial Assistance and Technical Assistance programs.

| | | | |
| --- | --- | --- | --- |
| Anthony Ngeera | Sr. Loan Officer | This email address is being protected from spambots. You need JavaScript enabled to view it. | (602) 708-4317 |
| Evan Marsh | Sr. Loan Officer | This email address is being protected from spambots. You need JavaScript enabled to view it. | (480) 647-2810 |
| Laurie Gehlsen | Grants Coordinator | This email address is being protected from spambots. You need JavaScript enabled to view it. | (480) 647-4462 |
| Lindsay Mills | Environmental Program Specialist | This email address is being protected from spambots. You need JavaScript enabled to view it. | (602) 647-3654 |
| Michael Vidaure | Environmental Program Specialist | This email address is being protected from spambots. You need JavaScript enabled to view it. | (602) 647-9591 |
| Morgan Burgess | Environmental Program Specialist | This email address is being protected from spambots. You need JavaScript enabled to view it. | (602) 647-4078 |
| Samantha Lemke | Environmental Program Supervisor | This email address is being protected from spambots. You need JavaScript enabled to view it. | (602) 647-3520 |
| Scott Connelly | Financial Services Director | This email address is being protected from spambots. You need JavaScript enabled to view it. | (480) 647-2577 |
Fiscal and Loan Services
The division of Fiscal Services transacts daily financial operations including WIFA loan disbursements, repayments, budgeting and procurement. Fiscal Services also manages WIFA debt service, investments, federal grants and state match appropriation.

| | | | |
| --- | --- | --- | --- |
| Brenda Prevost | Sr. Procurement Specialist | This email address is being protected from spambots. You need JavaScript enabled to view it. | (480) 647-4534 |
| Derek Bosworth | Accountant III | This email address is being protected from spambots. You need JavaScript enabled to view it. | (480) 647-6580 |
| Dianna Paap | Fiscal Services Manager | This email address is being protected from spambots. You need JavaScript enabled to view it. | (602) 329-6275 |
| Jane Thompson | Controller | This email address is being protected from spambots. You need JavaScript enabled to view it. | (602) 329-7826 |
| Rebecca Gomez | Administrative Services Officer III | This email address is being protected from spambots. You need JavaScript enabled to view it. | (602) 329-7716 |